Why would I need a water tower demolition?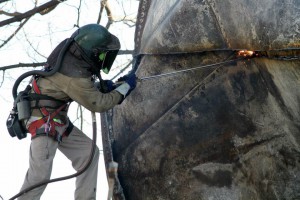 Make room for construction of a new tank or other construction projects
Tank is obsolete, or is being replaced by a larger tank
Tank is too costly to repaint, maintain, or upgrade
No longer able to be insured due to unstable conditions/liability
Damage due to a natural disaster
"The office staff was very patient and cooperative in adjusting the schedule when we were having trouble getting our new tank online."
City of Parkers Prairie, Minnesota
– 60,000 gallon Elevated Tower
As a client, what is expected of me before, during or after the demolition?
Prior to quote, fill out a Survey Sheet and provide an overhead site drawing. Pictures of the site are also very helpful.
Provide emergency and local contact information as well as directions to the job location.
Prior to the project you will need to shut off water to tank, drain tank, disconnect all power, have any cell phone towers/antennas on tower removed (by owner), and if possible provide a water supply within 400′ of the tank.
"I had the opportunity to work via telephone with your office. They did a wonderful job of communicating with me about the project's schedule and what our utility needed to do to prepare for the demolition of the water tower."
City of New Holstein, WI
-60,000 gallon Riveted Elevated Water Tower
"Your crew cooperated fully with our safety requirements and understood our concerns. I appreciated that you told me how you would perform the job and then followed your plan closely."
Cargill, Lafayette, IN
– 100,000 gallon Elevated Tower
What kind of condition can I expect the grounds to be left in?
The steel from the structure is sold to a local scrap yard and the site is restored to its original condition. The area will be clean and free of any debris and any work including excavation, foundation removal, fence clearing, or tree removal will be done promptly as specified by the contract.
"The crew… did a wonderful job in cleaning up the area. Any individual who went by the demolition area in the evening with no knowledge of the area never would have known what had transpired that day."
City of New Holstein, WI
– 60,000 gallon Riveted Elevated Water Tower
Could you give me a rough idea of a typical demolition project?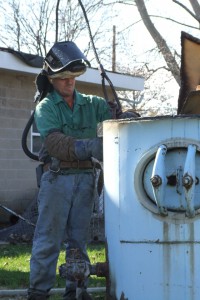 Local supplies are researched by our office staff.
We try to schedule the project to meet your needs.
Once the project is scheduled we rent most supplies locally including: forklifts, port-a-john, gases. If a crane is needed, it is hired locally and sized for your specific job.
We usually arrive early in the morning the day of the project and prep the tank for dismantlement. (safety meetings, safety precautions, cordon off areas, etc.)
We cut the tank apart with torches and use the crane to lower sections of the tower safely to the ground.
The forklift is then used to load the pieces to be hauled off site.
The majority of our projects are completed in 1-2 days.
"The demolition crew arrived with their equipment on the date scheduled ready to start work, and all the rental equipment necessary was on site including the large forklift, crane, salvage trucker, plywood, even a portable toilet facility. We found the crew to be most cooperative, and well organized in their operations. There was not a minute wasted, yet the work appeared to be performed in a most professional manner."
Haley and Ward, Inc., Buzzards Bay Water District, Bourne, MA
– 200,000 gallon Riveted Elevated Tower